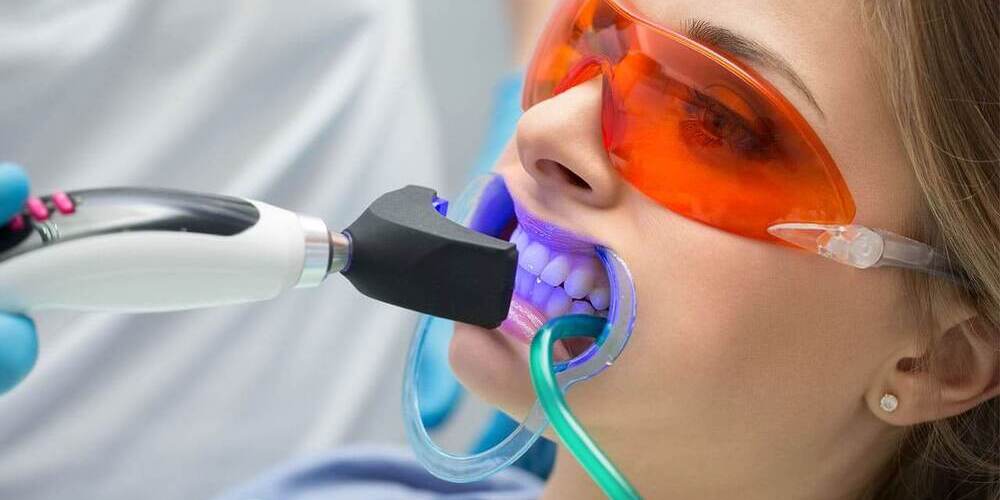 What is Teeth Whitening Treatment? Which Whitening Toothpaste Works Best?
Beyond regular tooth brushing, we all know that teeth can become discolored over time. However, thanks to modern dentistry, achieving a radiant smile is now easier. Teeth whitening through treatment or whitening toothpaste is a treatment frequently sought by both teens and adults to address aesthetic concerns.
Teeth Whitening Process and Whitening Toothpaste
Before starting the whitening treatment, it is essential to assess the patient's overall dental health. The treatment proceeds as follows:
Initial Examination:
The first step is to check the health of the gums and whether there is any tartar. If plaque or tartar is present, these need to be cleaned before the whitening procedure begins.
Whitening Procedure:
The dentist applies a protective barrier to the gums. Then a whitening gel is applied to the teeth. This gel is left on the teeth for a specific time, either with or without a laser.
Follow-up and Monitoring:
After the first session, the change in tooth color is usually immediately noticeable. However, an additional session may be needed a week later for the best results. Maintaining oral hygiene is essential for optimal results.
Can Smokers Have Teeth Whitened?
Smoking has many adverse effects on health, including oral health. Smokers often face yellow and brown discolorations and damage on their teeth. So, can teeth whitening be a solution in this case?
For smokers, nicotine and other harmful substances accumulate and cause color changes in tooth enamel. These changes are not only superficial and can penetrate deeper layers, making the whitening process more complex.
Whitening treatments for smokers are more challenging and less effective. Furthermore, the risk of teeth becoming discolored again is high. If a patient continues to smoke after the treatment, the longevity of the whiteness will significantly diminish.
Therefore, smokers are advised to reconsider their smoking habits before opting for teeth whitening treatment. Practically speaking, teeth whitening is not a long-term effective and sustainable solution for smokers. We do not recommend this treatment for smokers; quitting smoking is the best decision for both your teeth and general health.
Cost of Teeth Whitening
The cost varies depending on the whitening product used and the quality of the laser device. Many different whitening products and laser devices are available on the market, leading to a variety of prices.
What Whitens Teeth?
The active ingredient in teeth whitening products is hydrogen peroxide. Increasing its amount enhances the whitening effect but also increases tooth sensitivity. Long-term contact of this substance with teeth can cause sensitivity to heat and cold after the treatment. Lower concentrations of hydrogen peroxide activated by high-quality laser devices can mitigate this sensitivity issue.
Teeth Whitening Methods
When comparing prices, the points mentioned above should be considered. Our clinic prefers to use the Opalescence Boost product for whitening.
Opalescence Boost whitens teeth without the need for a laser, thanks to its activator (%38 HP). A 30-40 minute session can lighten teeth by 2-3 shades. Mild tooth sensitivity may occur after the procedure, but this is temporary. Opalescence products are the safest and highest-quality products for whitening. The cost is higher compared to other whitening products.
Is Teeth Whitening Permanent?
Teeth whitening methods applied by dentists are effective for 1-2 years. With continuous oral care and regular check-ups, the whitening effect can last much longer. Maintenance sessions once a year also positively affect the longevity of the effect.
For those who want to maintain this whiteness for a longer period, we can provide support with the Opalescence Home Whitening product. It whitens teeth more slowly but in a controlled manner with its 16% carbamide peroxide content. A usage of 1 time per day for 5-10 days, 4-6 hours each time, is recommended.
Is At-home Teeth Whitening Recommended?
Lastly, we do not recommend other at-home whitening methods that are not under dentist supervision. Various methods like lemon, baking soda, charcoal dust, and vinegar are shown on social media and the internet. These methods may remove stains initially but cause faster tooth discoloration by eroding the enamel later on. Instead, there are toothpaste options that can be safely used.
Which is the Best Whitening Toothpaste?
Tooth whitening is a significant concern for many. Whitening toothpastes are among the preferred products for this purpose. So, which whitening toothpaste stands out in the market and what features do they have? Here are the most popular whitening toothpastes:
Opalescence Whitening Paste: Opalescence whitens teeth with carbamide peroxide while potassium nitrate prevents tooth sensitivity. Fluoride helps reduce plaque and decay.
Colgate Optic White: One of the most popular whitening toothpastes on the market. It contains hydrogen peroxide as the active ingredient.
Splat White Plus: This toothpaste contains nano hydroxyapatite particles that strengthen tooth enamel and whiten teeth.
Marvis: Primarily used for daily oral care, Marvis has a whitening variant that is highly preferred.
I prefer Opalescence toothpaste among these. The primary reason is that the toothpaste contains very few abrasive particles. The active ingredients provide long-term whiteness. Moreover, this toothpaste does not cause tooth sensitivity. To choose the most appropriate whitening toothpaste, consulting with a dentist is necessary.
Conclusion
In summary, teeth whitening can offer great results if done correctly and professionally. Always consult with a qualified dentist to assess your individual needs and circumstances. For clinical whitening options, you can check our services and inquire to get a special offer.